Posted on Tuesday, 29 November
With counting for Victoria's upper house only in its early stages, it's clear we've made history – but it's too early to tell whether our lead candidates Liz Walsh and Jerome Small will win a seat in Victoria's Legislative Council.
In Northern Metro out of 23 parties on the ballot, Victorian Socialists (as of Sunday morning) was listed in fourth spot (after Labor, Greens and Liberal) on 5.91%. In Western Metro, Victorian Socialists was in 6th place on 4.24%.
With low numbers counted for the upper house so far, it is still too early to make accurate calculations about the result. After the 2018 election it was far from clear who was going to win the final seat in Northern Metro until the declaration of results by the Victorian Electoral Commission, more than two weeks after election day. It's quite possible things will take just as long this time around. 
As you can see below, we have a lot to celebrate – so please join us at a get-together for all Vic Socialists members and friends: this coming Saturday 3 December, 2pm at Princes Park, at the BBQ near the corner of Garton St and Macpherson St  (note – this is the correct venue, we previously incorrectly advertised it at the nearby bowls club)
Our lower house results are impressive. While we await the upper house results, it's clear from looking at the lower house numbers so far that Victorian Socialists' message of hope and resistance has struck a chord throughout Melbourne's north and west. 
For a newish party with a small budget and almost zero media coverage, our numbers are really terrific. At many booths we beat the Liberals, and came in ahead of the Greens. These results represent a substantial step forward our project – of pulling socialism off the margins of Australian political life and into the daily discussions and debates of many thousands of people.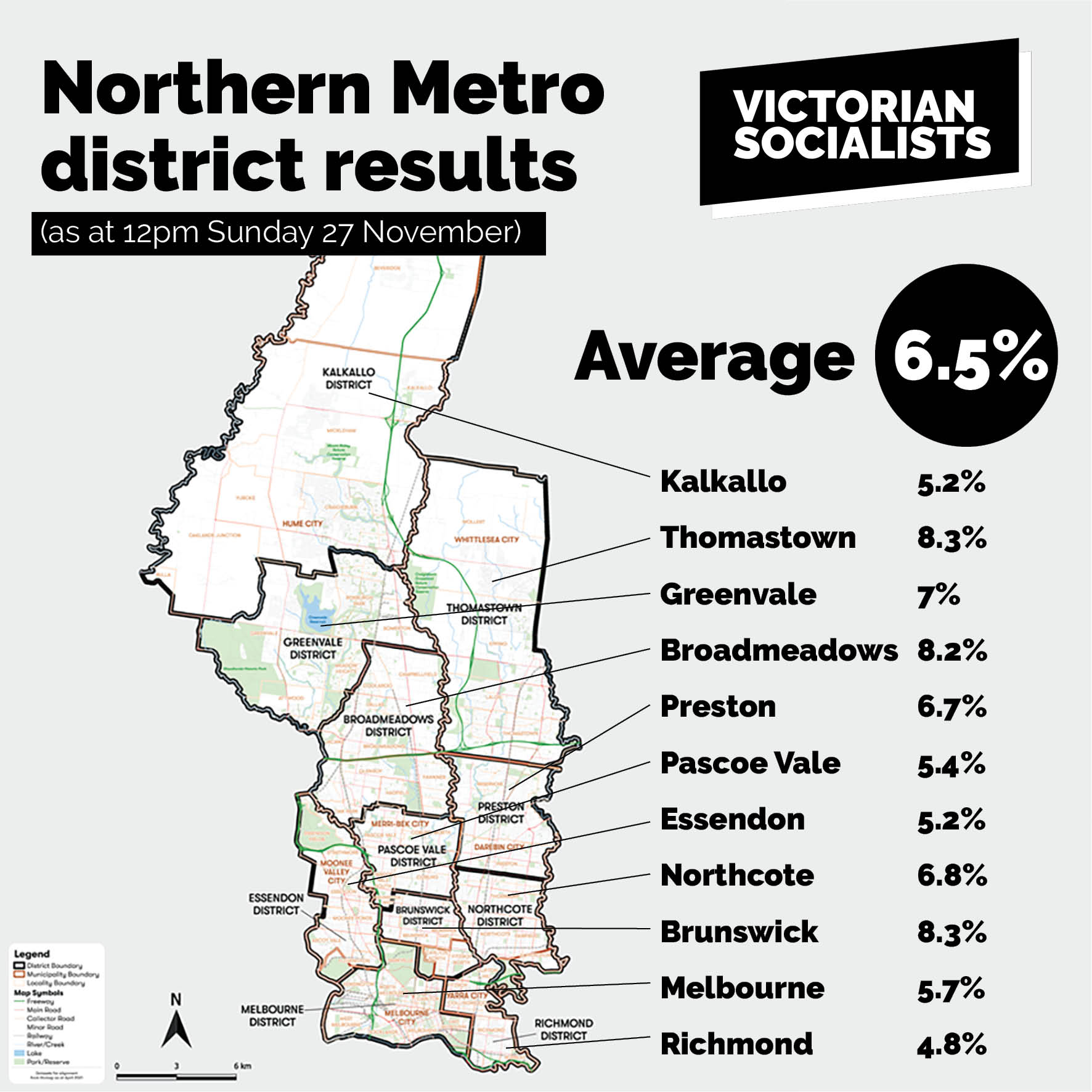 In the North, our campaigners have won impressive results in a string of seats which are heartlands of Melbourne's heavily migrant working class. In the seat of Broadmeadows, Vic Socialists candidate Omar Hassan is currently on 8.2%. We won an extraordinary 20% of all formal votes cast yesterday at the Upfield booth in the suburb of Dallas – beating the Liberals to become the second biggest party. We won 12.4% of the vote at Broadmeadows North, 14% in Campbellfield, and 13.7% at Coolaroo.
In nearby Greenvale, our candidate Mutu Yolbulan is currently on 7% after our campaigners won 11.2% at the Roxburgh Park booth, 13.8% at Roxburgh Homestead, and 9.1% at Meadow Heights. We had a standout campaign in the electorate of Thomastown, where Kelly Cvetkova is on 8.3% (including 10.3% in Lalor West and 11.7% at the Thomastown booth). In Kalkallo Sergio Monsalve is on 5.2%, with impressive results at Wallan (9.4%), Craigieburn West (7.6%) and Craigieburn North West (6.9%).
We've also found strong support in progressive-leaning inner city electorates like Brunswick, where our candidate Nahui Jiminez is on 8.3% after winning 10% or more on a string of booths. In Melbourne Colleen Bolger is on 5.7%, including 12.4% in North Melbourne where many residents of public housing vote, and around 10% in Carlton.
In the seat of Essendon Daniel Dadich is on 5.2% -- including votes of 9.1% at the Newmarket booth in the middle of the Ascot Vale public housing estate and 9.4% in Flemington. Maddie Hah is currently on 5.4% in Pascoe Vale and Steph Price is on 6.7% in Preston. In Richmond Roz Ward is on 4.8%, including 7.6% in the Atherton Gardens public housing estate, while Kath Larkin is on 6.5% in Northcote, including around 9% in Thornbury, Thornbury East and Westgarth.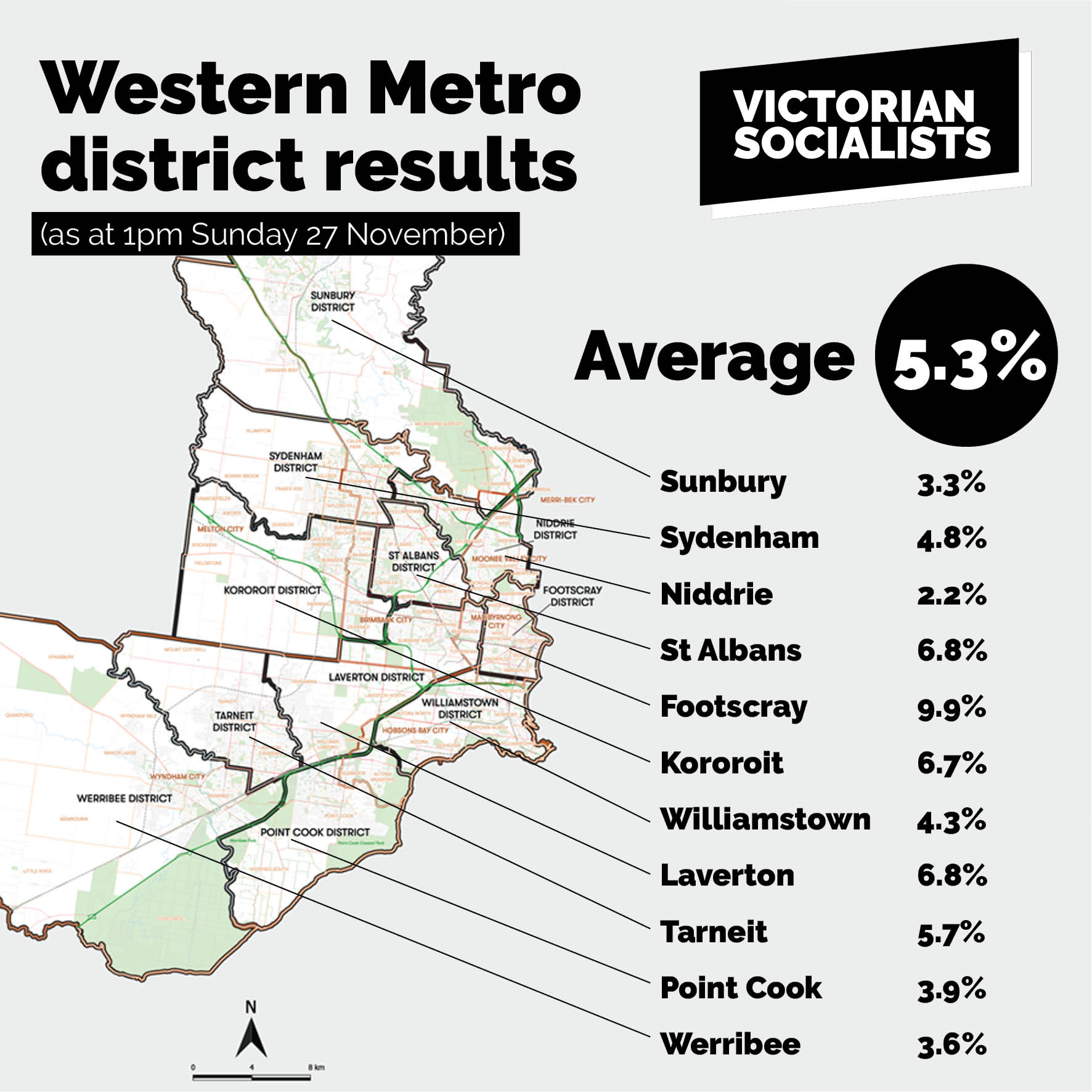 Our results in the west are spectacular, considering the smaller size of our campaigns and the fact we're newer to campaigning there. Councillor Jorge Jorquera is currently on an amazing 9.9% in Footscray, including wonderful results of 23% at Footscray park, 20% at Footscray, and 19% in Footscray East. 
And its not just the inner west: Belle Gibson is on 6.7% in Kororoit, most of which is new ground for Victorian Socialists – winning an incredible 17.6% at the Kings Park booth, 15.4% at Deer Park and 15.6% at Albanvale. Catherine Robertson is on 6.8% in Laverton, with notable booth results including 12.65% at Albion, 12.1% at Glengala, and 11.9% at Sunvale.
Alex McAulay is on 3.9% in Point Cook, while Brad Reich is on 2.2% in Niddrie. In Sunbury James Gallagher's campaign made gains off a low base to reach 3.3%, including a vote of 5.2% at Diggers Rest. Claudio Uribe is on 5.7% in Tarneit, with impressive booth results including Tarneit 9.9%, The Grange 8.7%, Mossfiel 8.5%, and Tarneit Rise 8.2%. Sue Munro is on 3.6% in Werribee and Julien Q Macandili is on 4.3% in Williamstown. Van Rudd's 6.8% in St Albans is impressive, as is Hajar Riad's 4.8% in Sydenham.
Behind each of these numbers, of course, are many thousands of individuals. Public housing tenants outraged at the demolition and privatisation of their homes. Unionised workers delighted to find a party that actually states the plain truth – that workers need and deserve a pay rise and should fight to get one. Health workers full of rage and despair at the state of our hospitals and the bullying of management. Climate campaigners who know we need a more radical approach. People young and old who know humanity can do better than the profit-driven dog-eat-dog of capitalism.  
As counting continues in the days and weeks to come, one thing is abundantly clear – Victorian Socialists has literally put socialism on the map across an enormous swathe of one of Australia's largest cities.
Growth suburbs like Craigieburn and Mickleham had never seen a socialist campaign before Victorian Socialists. Now, it's normal for young people confidently tell our campaigners "don't worry, I always vote Socialist!"
Introducing socialist ideas to new generations (and new suburbs!) is one purpose of the Victorian Socialist project. So is demonstrating a new way of doing politics, exemplified by our candidates being a constant presence at union picket lines through the campaign, by our policy of elected representatives only taking an average workers' wage, and by our refusal to do dodgy preference deals which put far right freaks above those with a more progressive record. So is the task of finding activists, linking them up, and embarking on a concrete political contest with more conservative political forces.
On all of these counts, our state campaign has been an enormous success. Once again we've broken every record for the scale of the campaign and the number of votes won for socialist candidates. Every single person who knocked on a door, spent time on a polling booth, made a phone call, put up a campaign sign, made a donation, or talked up Vic Socialists to their mates deserves credit for this important step forward for socialist politics in this country.
Whether our collective efforts have been crowned with electoral success will become clearer in the days and weeks to come. We'll be in touch very soon about the campaign, its aftermath, and (of course) any developments from the count.
If you're not already a financial member, now is a great time to join – and to refresh your merchandise so you can rep Victorian Socialists with pride as the count continues!
We're so proud of the efforts of every one of our members and supporters – and hope to see you all next Saturday afternoon at Princes Park!!
Liz Walsh and Jerome Small
For Victorian Socialists