"This Time, Vote Socialist" we said – and in last year's state election more than 50,000 people did exactly that.
Unfortunately Victorian Socialists missed out on winning a seat. Disgraced former Labor branch-stacker Adem Somyurek was the last elected in Northern Metro, with a primary vote just a few hundred more than us (and with a slew of innocuous-sounding feeder tickets like the Companions and Pets Party funneling him votes). In Western Metro, Legalise Cannabis edged out Victorian Socialists' Liz Walsh in the crucial split.
We're enormously proud of our campaign, and we hope all our members and supporters are too. We've put socialist politics on the political map in Melbourne in a way not seen for decades. 
After writing us off before and during the campaign, other parties and political commentators are now compelled to take socialists seriously as a political force. More importantly, tens of thousands of people all over Melbourne's north and west have already done so.
We set ourselves the task of making history – and we did! There's plenty of detail on our results below – highlights include:
The biggest vote for socialists to the left of Labor in Victoria since World War Two – by miles!
An increase of 60% in our statewide upper house vote – from around 32,000 in 2018 to over 52,000 in 2022
Upper house votes higher than a string of candidates who have ended up winning a seat
Standout results in individual lower house seats including Footscray (9.3%), Broadmeadows (8%), Brunswick (8.1%)
 Individual booth results of above 15% in a string of places including Upfield (20%), Footscray (three booths around 20%), Deer Park (15%), Kings Park in Kororoit (17.5%) 
Celebrating a campaign like no other
We put more people on the streets than any other campaign – especially the rally called by Liz Walsh which saw 15,000 march for abortion rights after the Roe vs Wade decision in the US.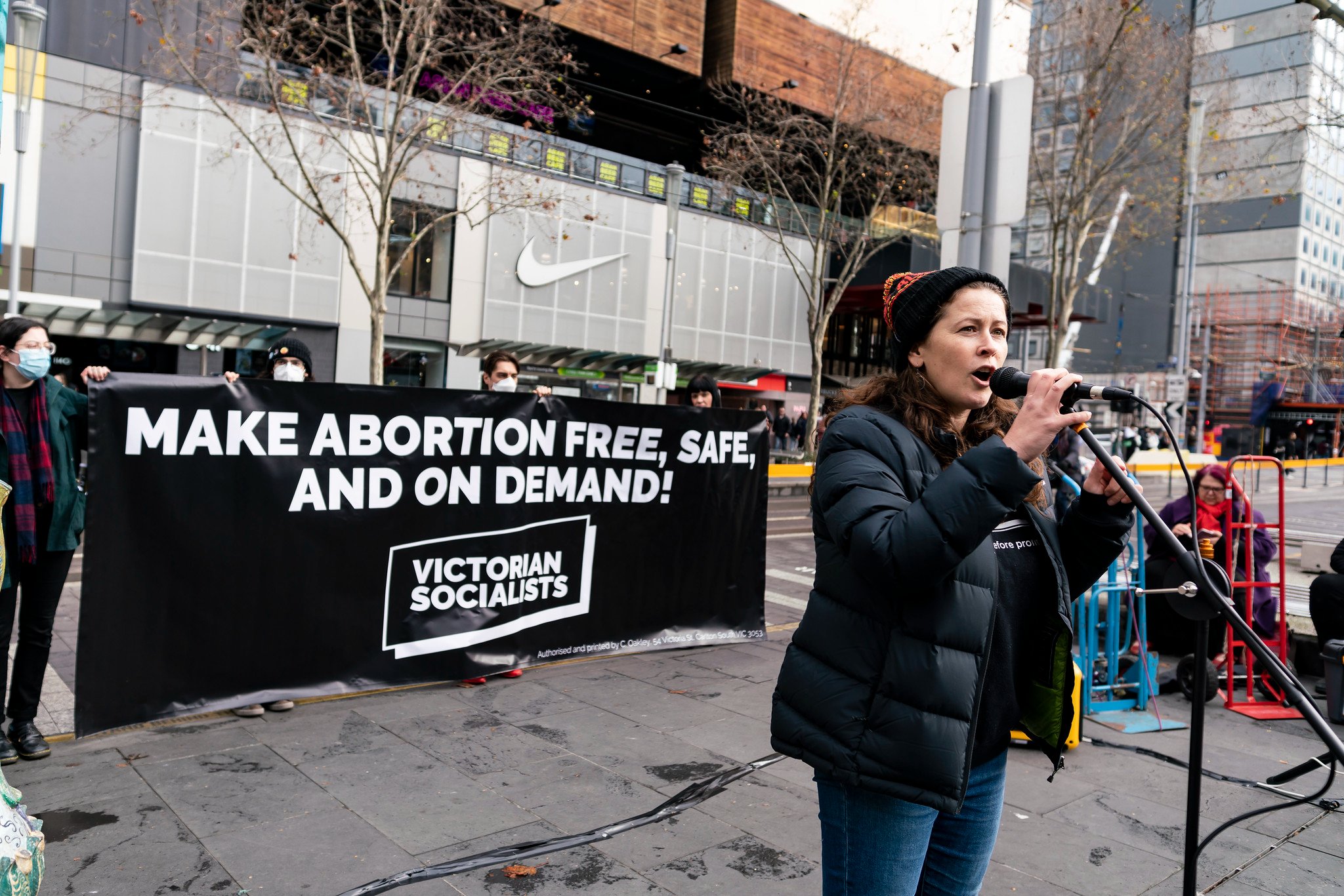 No other campaign got to more strikes and protests!
No other campaign knocked on as many doors (an incredible 190,000!!), held more events (at least 700 events, counting only the forums, train station leafletings, doorknocks and training sessions that have been listed on our website!) had more conversations (a wonderful sample here), or worked as hard as us.
All of this is reflected in our results.
Some detail on our results
Our statewide total of 52,336 upper house votes includes 16,107 votes in the West (3.6% of all formal votes) and 21,335 in the North (4.71%).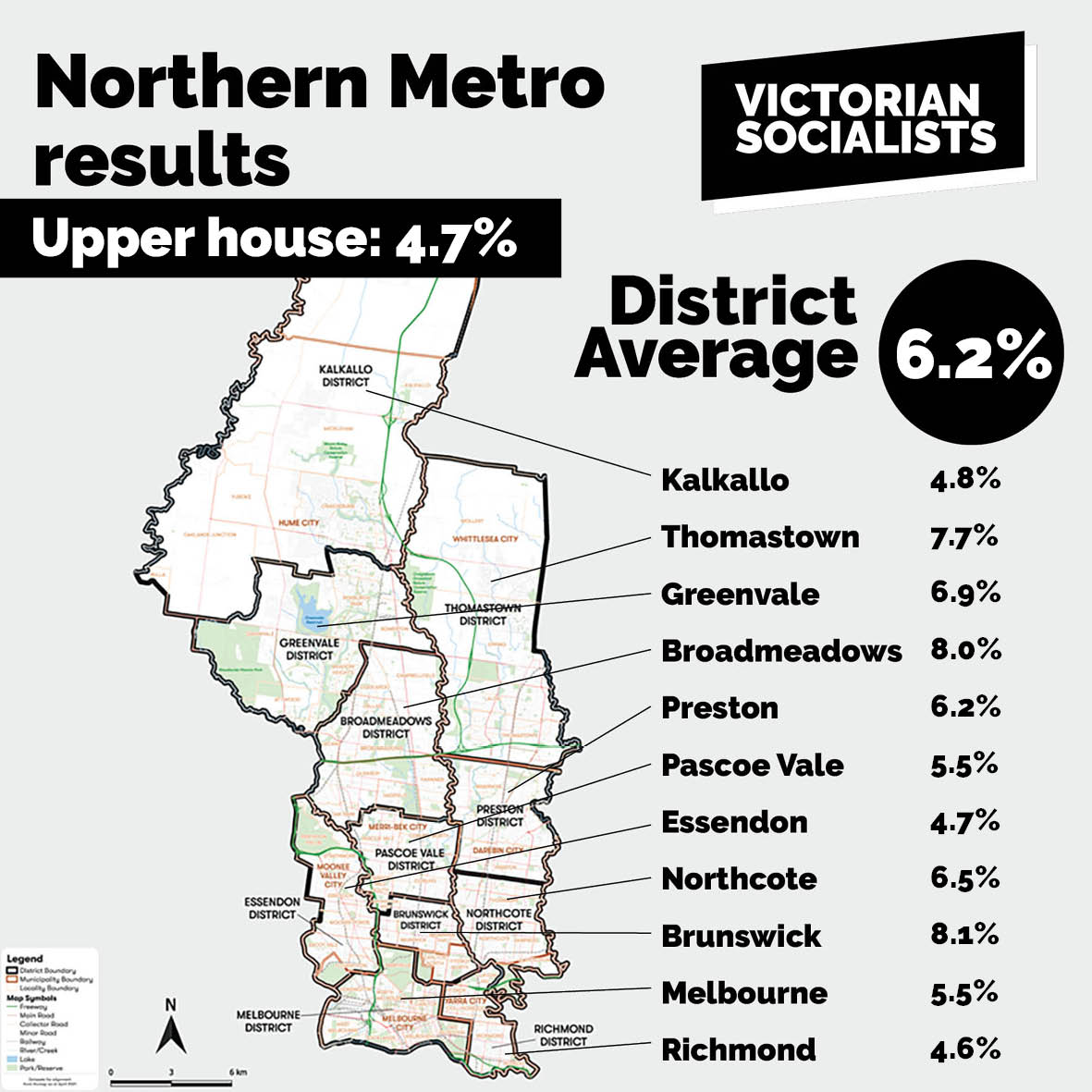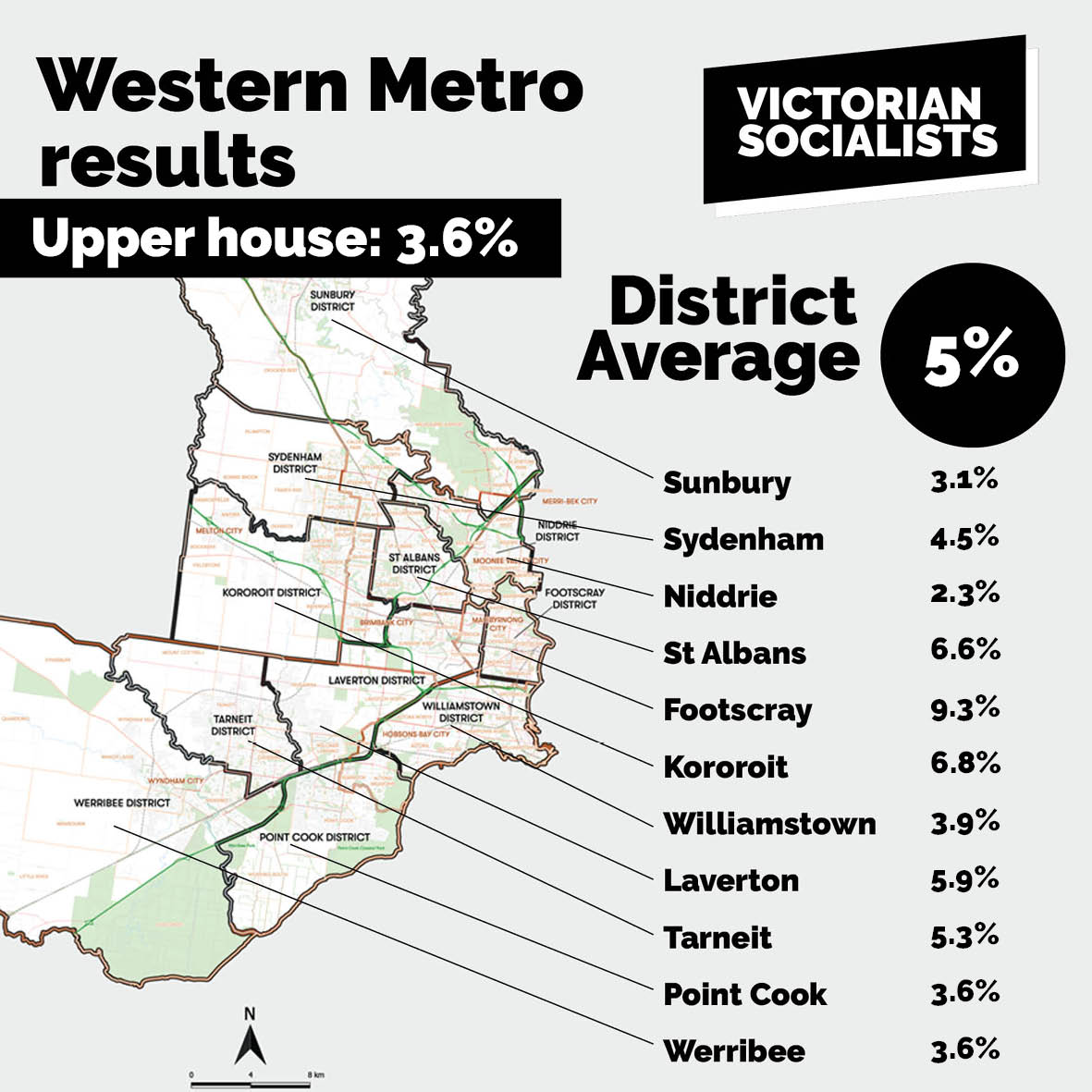 This means we've won more first preference votes than several newly-elected members of Victoria's upper house. Our vote of 21,335 in Northern Metro is more than eventual winners Legalise Cannabis in Western Metro (elected after polling 19,266 primary votes); Shooters, Fishers and Farmers in Eastern Vic (14,214); Pauline Hanson's One Nation in Northern Vic (17,331); and the Liberal Democrats in South-East Metro (16,996). 
In the lower house, 48,865 people gave Victorian Socialists their number one preference. 21,607 people voted for us in 11 lower house seats in the west – an average of 5.01%, with our best results being Footscray (9.3%), Kororoit (6.9%), and St Albans (6.6%). 27,258 people voted Victorian Socialists in 11 lower house seats in the North, where we averaged 6.22%. Our best seats were Brunswick (8.1%), Broadmeadows (8%) and Thomastown (7.7%).
We've built solidly on our 2018 results
Our statewide vote in the upper house has jumped from 32,603 in 2018 to 52,336 this time around – an increase of 60%! We pushed our vote in Northern Metro up from 18,927 to 21,335 (an increase of 13%) – while also building a campaign in the West which was strong enough to get us in the mix for a seat. This is an extraordinary achievement.
It's a similar picture looking at our lower house vote. In 2018 we won 9,967 votes in the 7 lower house seats we contested in Northern Metro, averaging 3.8%. Our 2018 result of 7.14% in Broadmeadows was a standout, and we came close to the threshold of 4% in Mill Park (3.91%), Preston (3.89%) and Yuroke (3.36%). As we argued at the time, these were very respectable results for a brand new party.
This time around, we've increased our lower house vote in the north by nearly three hundred percent to 27,258. Add the 21,607 lower house votes we got in the West and we get a total of 48,865 people who voted for us in 22 seats across Melbourne's north and west. We polled more than 4% in every one of the 11 lower house seats in Northern Metro, and in 6 of the 11 seats in Western Metro – with ten seats in the West winning more than 3%. Given how new we are to campaigning in the west, these results – like our 2018 campaign in the north – should be seen as a platform to build on.
We've made history
You have to go back a long way – to the 1940s in fact – to find a more significant vote in Victoria for socialist candidates outside of the Labor Party.
Let that sink in.
We've done something that no other group of radicals has done for more than 70 years: put a socialist agenda in front of a whole swathe of Melbourne suburbs, and get a credible response. We've run campaigns in many suburbs that have never seen a socialist campaign at all, let alone one that can win over 10% on a string of booths. 
The term "conviction" is contaminated by association with political operators as wooden, right-wing and uninspiring as Bill Shorten. But we'll claim it as our own.
Because our entire campaign has been powered by conviction. Conviction that workers create all the wealth and that it's about time we demanded control over it, rather than leave it to a bunch of unelected billionaires. Conviction that reactionary ideas like racism can be challenged and overcome – along with the structures that fuel those ideas. Conviction that humanity can do better than the dog eat dog, profit-driven logic of capitalism.
Conviction that a socialist movement has a huge amount to offer. Conviction that we can use an election campaign to help pull socialism off the margins of political life and into the daily and weekly conversations. 
Conviction that we have a world to win – and can win it.